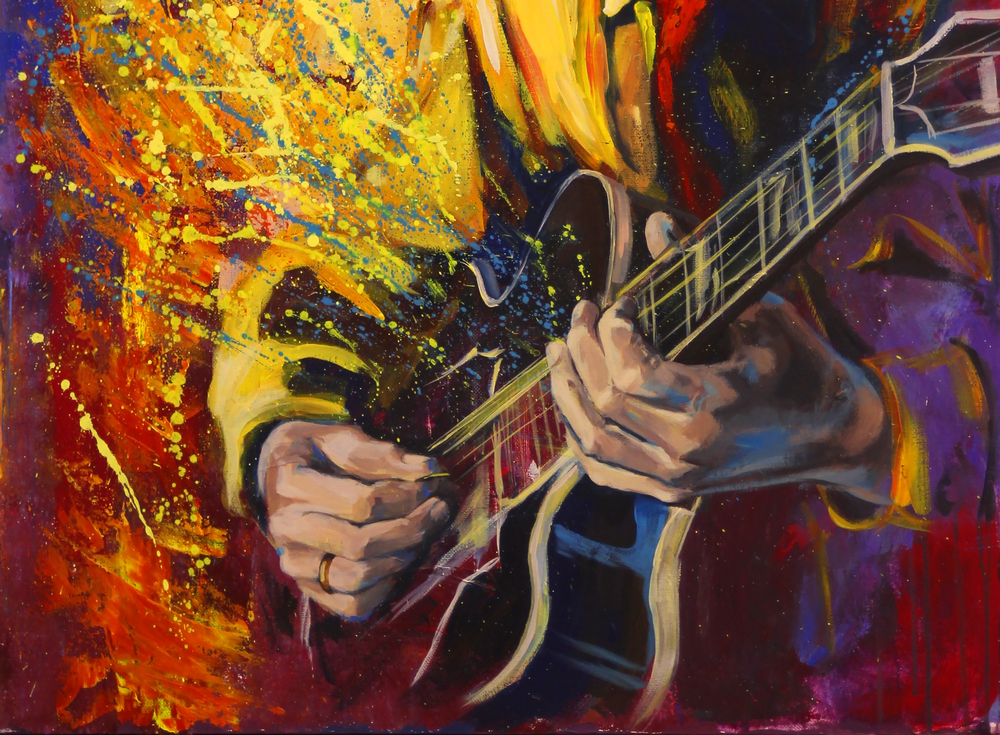 This great composer, guitarist and jazz promoter in Mexico, is an example of creativity and discipline, which he shows in his perfect and original performances. Also, he is always surrounded by extraordinary musicians that he chooses to perform with in his band, Psicodrama.
Here is the chat I had with Oscar "Zensei" González, during his last visit to Mexico City.
June 16th, 2016
The Process of Jazz: Study and Creation
"In every case, what you do is influenced by what happened before. Those who study art tend to repeat what we like and other artists are compelled to study. As a composer you have to listen to Bach and Beethoven. Bach and Tchaikovsky are the ones that I have studied the most, and in jazz… Thelonious Monk is a great composer, Chick Corea, Coltrane, they are my main influences; John Scofield, Mike Stern, Charlie Parker. Everything comes from there.
You can listen to a funk or chill-out band… but the phrases they use come from Dizzy Gillespie and Charlie Parker; it's like a modern bebop. It's cool. The way they combine styles is even better, because funk didn't exist during Charlie Parker's era. You start realizing that sort of thing.
In my case, my music is a confluence of all this. I also like the music of Schöenberg, Bartók. My music is a mix of many things. I also like pure Mexican, Brazilian, Argentinian music, all of this is in my artwork. And it is a free selection of all those elements that I use to create music.
To be creative we have to be self-sufficient, you don't need to go to the old musicians, or learn a language, or have any kind of studies. However, when your creativity is cultivated with studies, it is enriched and I think every professional artist must do that. If you want to write a book like García Márquez, how are you even going to to do it if you've never read before? It's the same here, how are you going to compose like Chick Corea if you have never listened to any music? Or maybe you have listened, but you need to study it".
The Perfect Jazz Band
Oscar, if you had the opportunity of getting musicians together, no matter the place or the year, to create the perfect band, who would you choose?
"To play with me? There is a Norwegian saxophonist, Ole Mathisen, who lives in New York and he is my friend. I've taken him to Monterrey two times. When I met him I said to him: 'you have in your saxophone what I've had in my head for many years'. I think he really understands my ideas. Some famous people could hear him and say 'it's Coltrane or Michael Brecker'. The trombone player Chris Washbourne… these are two great musicians, with them I don't need anyone else. The trumpet player Ralph Alessi has also played with me many times, and I invited him because I really like his style.
I would like to invite Roy Hargrove, Joe Lovano and Kenny Garrett on the saxophone. I prefer contemporary music. I like the new styles a lot more than those of fifty years ago. There are a lot of differences, so many! Most of all because of the fusions. In Charlie Parker's years, rock and punk didn't exist; today's musicians listened to, or played those styles. There are rhythmic and harmonic fusions, in the harmonic theory area as well. I consider myself an artist of my time and I really like the styles of the artists I mentioned, living artists! I think they understand me better.
Javier Garagarza plays the drums on Psicodrama. I have a mental, telepathic communication with him, we don't speak. Tony Moreno recorded with me, he is a fantastic drum player from New York, I love the way he plays. I would love to play with Antonio Sánchez, I met him already but we've never player together. If you bring me Joe Morello, I would gladly play with him, but I don't have that need."
Jazz in Monterrey
"There is a growing movement of jazz, an increasing audience. We have been playing jazz for 25 years. I have been dedicated to jazz since I was 12.
I started to organize concerts in coordination with the Secretaría de Cultura de Monterrey. We organized jazz cycles every Wednesday for two years. Then I kept organizing jazz events in parks, in the streets, in bars. We did great with that, we always had a big audience. Many bands participated. I used to have a three month agenda with no gaps in it because everybody wanted to play. There were a lot of new artists. I never gave up, I kept going. I saw a growing audience as a result, then I was able to organize the Festival de Jazz de Nuevo León, which I managed for 10 years, with help from the government. The Secretaría de Cultura del Estado had its attention on us, they congratulated us for having a huge audience compared to the number they were used to seeing. We always fill the theater… and it's not only me. There is a whole new generation of musicians who have worked with jazz: Roger Nuncio, Homero Ontiveros, musicians from the band Inspektor, Álvaro Suarez who has had a jazz show for 30 years now, and I can mention many people: Rogelio Villarreal, with the Centro Cultural Universitario, left a big mark.
The Festival de Jazz de Nuevo León was mainly created for local musicians. There are many jazz places (in Monterrey) that offer options from Tuesday to Saturday. These places become full, there is an increasing young public: teenagers and young adults are no longer satisfied with the offer of traditional media, they're looking for something more. They get the information from Facebook, Twitter, they are making that paradigm change in the city.
Controlled Media VS the Need of Spreading Jazz
"Urban life is an artificial system, it's not in the nature, it is a way to manage human races, society, and it's managed from different levels. The way to have more control over a large amount of people is to keep them misinformed, take away their time and energy so they won't think about important matters. Art expands people's criteria. Also philosophy and spirituality, not religion because those are not the same. In the end, it's all about expanding people's consciousness, any element that helps you develop the consciousness of a person will help them develop their critical spirit, and the skills that will make them more difficult to control, less docile.
The system is designed to create barely conscious human beings. For the system, it's important to keep poverty, ignorance and work going: for a few pesos, you'll work your ass off and get home without energy to think or do anything else. It's also about security, individual rights: if we don't have those, people become more susceptible, weak, this security crisis in our country is created by the whole system to provoke docility and population control. When a population is afraid it pays with its freedom. We have a growing police state, so we can be regulated by controlling rules.
This is why art is very important. Mass media, the voice of the system, offers artistic options that do not develop consciousness, that is why most people don't know classical music, jazz, progressive rock, philosophy, science, sports that help expand human consciousness (instead of alienating people and turning them into fanatics). All of these elements: philosophy, politics, religion and science, have been used as matters of social alienation to decrease consciousness. A person who finds new options takes care of the developing of his/her consciousness, which also has to do with family. Some families are already indoctrinated, they ask: 'why are you looking for something else? You weirdo, don't do that, nobody's going to want to talk to you'. Some others just forbid their children from changing their minds. I think this is why arts with a deep er message are less widespread"  .
Nuevo León Jazz Festival
"We organize discussion groups, conferences, concerts with dynamic activities, master classes, workshops and courses.
All the promotion is made through internet because it's free, but we'd need a respectable amount of money to show this information to the general public, because even if we fill theatres, the newspaper says nothing about it, nothing is on the radio or TV, it's only on the internet. If we had that kind of promotion we would have the great problem of having to find bigger equipment, and eventually have a festival as big as the one in Playa del Carmen".
Jazz in Mexico
"Some cities of Mexico say there is a lot of support for jazz music, some other say there isn't. Here in Mexico City, some people told me that there's a lack of public, less places to play, but there are more artistic talents; that's good, however, because those artists go out and show what they have outside the country.
I think jazz in Mexico needs infrastructure, as many things in the country, but specifically, in the art world no one cared to make a solid infrastructure for jazz. The Secretaría de Educación, the Secretaría de Cultura are a step forward, but unfortunately jazz players haven't gotten together to develop that impulse.
Nuevo León created the "Patronage Law", which condones the taxes of enterprises that support artistic projects, I think there are many people who want to bring that idea to Mexico City and make it a federal law, specifically for jazz, to create decent jazz festivals, with a decent budget".
Psicodrama
"Psicodrama is the band I created and that is how I call it wherever I go. I have different Psicodramas in New York, Monterrey, Mexico City and Uruguay. I invite musicians, and sometimes I take people from Monterrey or Mexico City. I have many drum players, bass players, piano players, it doesn't matter if one of them has to go, it has worked very well".
A mexican jazzman outside Mexico
"David Liebman congratulated me one day, also Ole Mathisen… he said 'what a great song'. People have liked my style, I don't play thinking about what other people are going to say, but I appreciate all opinions. In Mexico some people say I don't play jazz, because I use a Fender guitar… these are opinions of people who haven't traveled, who don't know about tendencies. In South America, people really like my music".
New Projects
"The next album: Resiliencia. With it, I hope to narrate a difficult time I had to live years ago, it is an instrumental story. I am going to be a little less orthodox, I will use elements of progressive rock, heavy metal and ballads. Many themes will feature an orchestra. I composed all of the music. All of this, thanks to the Patronage Law".
Visit the documentary of Germán Palomares during the recording of Psicodrama. New York, 2009: Oscar "Zensei" González en Nueva York 
*Special thanks to my good friend Hernán Rocha for helping me with the proofreading of this article in its English version.