By: Estefanía Romero
Could you imagine a Mexican band taking our dear genre even further? Let me tell you about this project.
I must start by saying that I've always felt deeply bored by the Literature that makes you read a hundred pages to find an exciting moment when something finally happens. Years ago I used to be a little proud of my cynicism, but I couldn't avoid to feel a little ashamed too by this idea. However, at some point I read that my dear Henry Miller used to think exactly the same: he accused Proust of writing super long novels that, no matter how brilliant they are as a complete universe, they actually make you feel more exhausted than excited.
This thought came to my mind when I was trying to explain to myself what happens with certain kinds of bebop… the lazy ones. Weeks ago I published a critic of Paul Nedzela's concert in Mexico City, which is actually a great example of how the complexity of an artistic product and the fact of being "well done" isn't enough, or at least it isn't strong enough to hold an honest attention from the public. This is why many jazz ensembles execute the Olympic bebop career of holding a long piece with minimum variations, plenty clichés and the absence of a discourse, because copying phrases and repeat them over and over is the easiest way. I think this is the kind of jazz people hates when they say or believe that jazz sucks. And I can't avoid to compare this feeling with the one you get after reading a soporific piece of literature: there is exaggerated music (or perceived as so), that only gets to communicate something until a holy grace makes the musician find a little originality, if that ever happens. Let's remember that being a musician isn't necessarily the same as being an artist.
I needed to say this to explain part of what I felt last night with Jazz House Collective. In their proposal, bebop spirit is present because of the complexity, the unpredictable formulas, some dissonances and the importance of the solo player. The compositions are astonishing because of their constant construction of long strange phrases, their harmonic richness and its textures. Each member has an absolute domain over the pieces; they play with the colors, timbres, projections and the personalities they can obtain from their instruments. It is impossible to avoid listening.
Also, they add the importance of a well guided instrumentation, an heritage from the 30's Big Bands, which is distinguishable from a peculiar dynamic on the distribution of the voices, volumes, solos, soli and ornamentations that redirect meaning on every composition, such as bends at moments that you wouldn't expect, a Jarocho or Mariachi howl, or a silence and other kinds of creative resources.
You could spend hours at their concerts and you'll try to listen to it all. This is what happens to me when I read literature that I like, the one that is violent from the first phrase, isn't merciful with the second one, it strikes you with the third and moves you on and on until leaving you tired and hoping to feel once again, because you know the experience will be the same as strong even if it changes with a second reading.
Another point that has been on my mind a lot is the bridge that distinguishes bebop from hardbop. And I've had to do this because looking for explanations has lead me into a void: it seems that the historians hasn't made their minds, so they usually separate the concepts considering a temporal difference: bebop belongs to the 40's and hardbop is some sort of bebop's extension that went classic as a postmodern jazz or, in other words, the jazz that came after the Second World War, and that wasn't either cool jazz, free jazz or modal jazz. But, what does it tell us? Some writers consider Charles Mingus, Art Blakey or Dave Brubeck as hardbop, but this are very different from each other. Even though, and because of the logic of its sound, we could add the Latinamerican Suit of Duke Ellington, written during the sixties, as part of this heritage from the New York of the 40's. So hardbop could be considered as a bebop, with a more melodic personality (in contrast with Charlie Parker) and apparently more "organized". Plus, thanks to the globalization it was able to add resources from music of different cultures. Anyway, this could be tricky because Dizzy Gillespie was very melodic and he incorporated himself the first intents of afrocubanisms in bebop.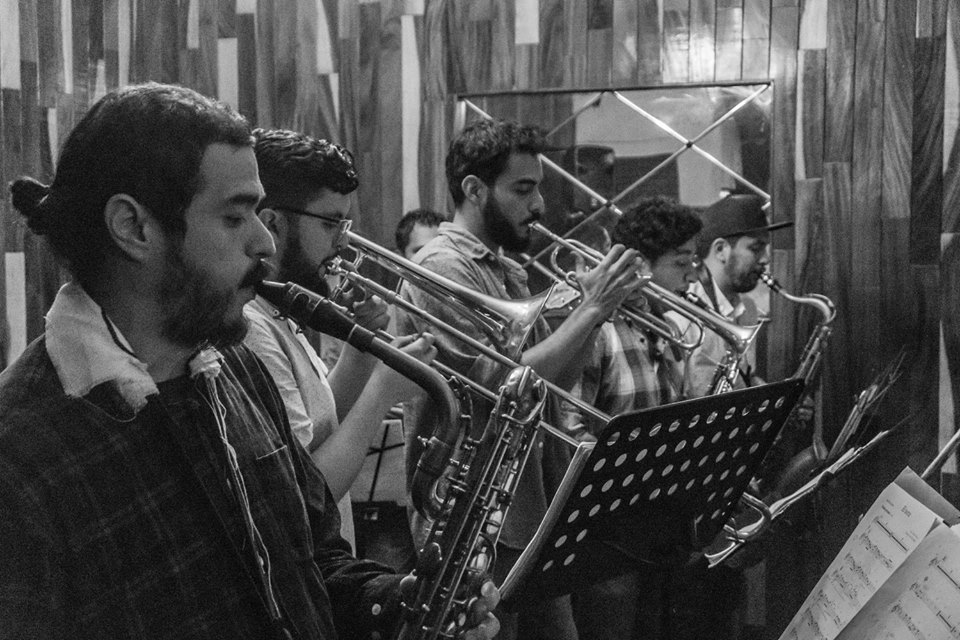 I mention this because Jazz House Collective can actually be considered as hardbop. Its contents, besides showing a bebop base, sound more like different jazzistic ideas from the 50's and 60's, and they reveal serious fusions with music extracted from popular Latinamerican contexts: mariachi, danzón, cumbia, son, norteño music. This last one actually matches with the beginnings of jazz because it's a form of polka, which was one of the elements that took part on the development of the jazz from New Orleans and Dixieland.
Part of this is explained because each member from Jazz House Collective belongs to different latitudes from Mexico, so each one takes its own folklore to the most elaborated known jazz.
…
Everyone in Jazz House Collective is a composer. Their album, named as the band itself, and last night repertoire were built by original pieces. Each member presented one of their works. The result was a hand fan of possibilities that, in total, belonged to a similar logic: Mexican jazz that is written by real artists, who also shout and zapatean, because tap and son can make a fusion too.
When soloing, these musicians crowned the respect that they feel for each other by creating choreographies of gestures as squatting, or walking aside from the soloist so this could be on front of the public. It felt like a ritual. This is fantastic because here we have young concert players that understand (maybe unconsciously) the importance of their acts and the communication they have among them and the honest connection they create with the audience.
Last night, the concert ended with the Marcha de Zacatecas, played on the New Orleans style, with a guest from the public on the piano. I regret that this instrument was barely as loud as the other ones, but we got to listen a little bit of ragtime and typical harmonies from the beginnings of jazz.
In conclusion, Jazz House Collective has a real proposal, a unique voice and it is fundamental that projects as emotive and intelligent as this get to represent Mexico in the big leagues of international music. Yesterday, Jazzatlán sparkled. I hope that part of the proposal of this venue is to keep giving space to disruptive creativity.
Integrantes:
Hector Gerardo Villa Robles- Trompeta
José Luis Escobar Ruiz- Sax alto
José Arturo González Huesca – Sax tenor
Martin Atreyu López Romo- Sax barítono
Francisco Javier Galán García- Trombón
Nain Raymundo Solana Chab- Guitarra
Aldo Rivera Holguín- Piano
Jorge Alfredo Gamboa Pacheco- Contrabajo
David Alejandro Lozano Villagarcía- Batería